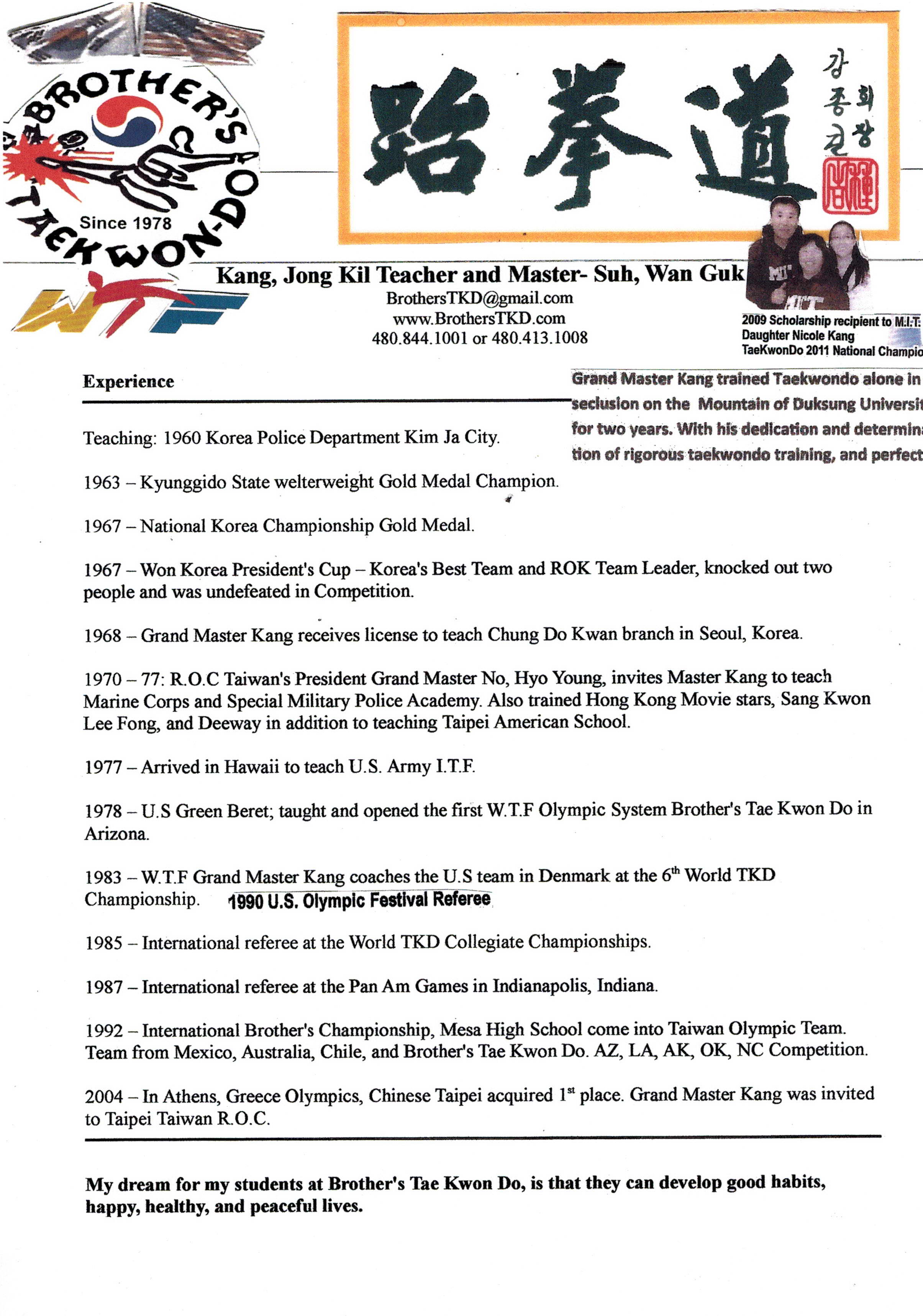 Born a son of a farmer, Grand Master Kang was born on September 5, 1943 in Kimjae, Chunbook, Korea. Grand Master Kang began his TaeKwonDo training in 1956. In 1958, at the age of 13, Grand Master Kang received his 1st degree black belt. He received his 9th degree black belt from Chung Do Kwan in 1998 and his 9th degree WTF black belt in 1999.

Grand Master Kang accomplished quite a lot while in Korea. He won his first major title when he won the state championship on Kyung Ki Do. He was National Champion in 1967 and was awarded the President's Cup in 1967 for being undefeated in competition. He was also team leader of the Korean Army ROK Championship Team and he was the coach of the Army National Demonstration-Team.

Grand Master Kang founded his first TaeK wonDo school in 1967 in Seoul, Korea, but this was not his first time teaching. While in high school, Grand Master Kang taught for the Puan police department. In 1970, at the request of the Taiwanese government, he moved to Taiwan to become the Korean TaeKwonDo Association National Instructor in order to help develop the hand-to-hand combat skills of the Taiwan army and military police.

Throughout the years 1970-1977, Grand Master Kang taught in Taiwan. Two of his students, Lio Dziz Hong and Shau Bus, became the first ever Chinese Taipei team members to win 1st and 3rd places at the Korea World TaeKwonDo championships. Grand Master Kang became the chief instructor for the officers (leaders) of the Taiwan army and military police school and taught at the Taipei police academy. In the 1988 (Seoul, Korea) and 1992 (Spain) Demonstration Olympic Games, one of Grand Master Kang's students was the Chinese Taipei team coach and his grand students won five Olympic Gold medals.

Also during the 1970's, Grand Master Kang taught a number of Hong Kong martial arts action heroes. Two of his most famous action star students are Dee Wayne and Sang Kwon Lee Fong (two time winner of the Hong Kong Academy Awards).

Grand Master Kang came to the United States in 1977. He first taught for the US Army in Honolulu. In 1978, he moved to Phoenix, Arizona and opened Brother's TaeKwonDo. This was the first school in Arizona to advertise TaeKwonDo. Until this time, all TKD schools in Arizona advertised as Karate schools. Brother's TaeKwonDo was also the first school in Arizona that used the WTF Olympic system.

Grand Master Kang quickly became active in promoting TKD in the United States. He joined the Amateur Athletic Union (AAU) in 1980 and served as its President in 1984.
He was again called in to service in 1983 as the United States National Coach and he taught the 12th Special Forces Group (Green Beret) in 1985.

In 1986, Grand Master Kang refereed at the Pan American Games and he was referee and manager during the 1990-1994 U.S Olympic Festivals (Olympic Training).

Grand Master Kang served as the President of the United States TaeKwonDo Union Arizona Association from 1985-1995.

The Chinese Taipei team came to the United States to visit Brother's TaeKwonDo for special training. The team went on to win three Gold Medals in the 1992 (Spain) Demonstration Olympic Games.
Grand Master Kang's grand student in Chinese Taipei won a gold metal on 2004 Athens, Greece Olympic.